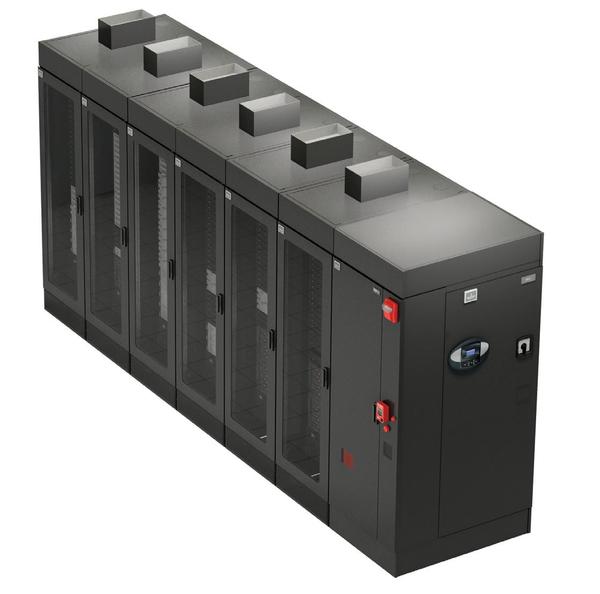 Introducing The Emerson SmartRow™ Solution
The SmartRow solution is an intelligent integrated infrastructure that can be implemented in just weeks. It allows you to easily deploy and effectively manage an integrated IT infrastructure without being limited by building systems, such as fire suppression and cooling.
It is available in three-to-ten rack configurations from 12 to 40 kW of total capacity, allowing you the flexibility to start small and expand over time.
This space-saving and cost-effective solution combines the industry's finest power, precision cooling and infrastructure management technologies in a sealed environment - meaning you can place it in virtually any conditioned space.
KEY BENEFITS:
• Hot air & cold air separation
• Cold air containment
• High-Efficiency Dedicated Cooling
• Space-Saving, small footprint
• Modularity for flexibility and easier expansion
• Integrated Monitoring and control to optimize efficiency in planning and management
• Unique local service audits, configuration support, installation support, maintenance and repair
• High Availability and High Efficiency UPS
• Integral Fire Suppression
KEY FEATURES:
• 12, 20 & 40 KW COOLING OPTIONS
• FIRE DETECTION/SUPPRESSION
• CLEAN, QUIET OPERATION
• BACK-UP VENTILATION
• REMOTE IP-BASED MONITORING
• MOISTURE RESISTANT
• EXPANDABLE
• VARIOUS COOLING OPTIONS
• DEDICATED AIR TO EACH RACK
• COOLS THE SERVERS, NOT THE ROOM
• RELOCATABLE
• VARIOUS UPS OPTIONS
• SECURE ENCLOSURES
For assistance on your project call Mainline Computer Products toll free at:
(800)-686-5312 or E-mail: Sales@MainlineComputer.com