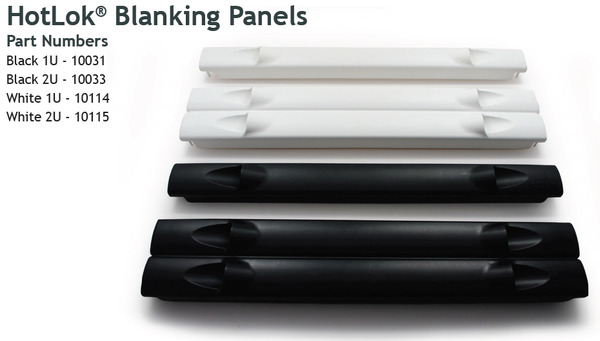 HotLok® Blanking Panel Features:
HotLok® blanking panels are a snap-in blanking panel that provides a 99%+ effective seal in IT equipment cabinets. The state-of-the-art technology, designed for both 1U and 2U openings, controls airflow for optimised cooling effectiveness. The energy-efficient cantilevered sealing vanes eliminate the gap between adjoining HotLok® blanking panels or the installed equipment, providing a snug seal and no air leaks.
Designed to effectively seal openings in IT equipment cabinets and control airflow for optimized cooling effectiveness. The HotLok Blanking Panel reduces hotspots and bypass airflow by preventing equipment exhaust air or hot aisle air from migrating to the conditioned air intake stream at the front of the cabinet. HotLok Blanking Panels are available in both 1U and 2U configurations and a choice of traditional black or a more reflective white.
Mainline can provide a detailed plan to address your particular requirements. For assistance on your Data Center Project call Mainline Computer Products toll free at: (800) 686-5312 or Email: sales@MainlineComputer.com.